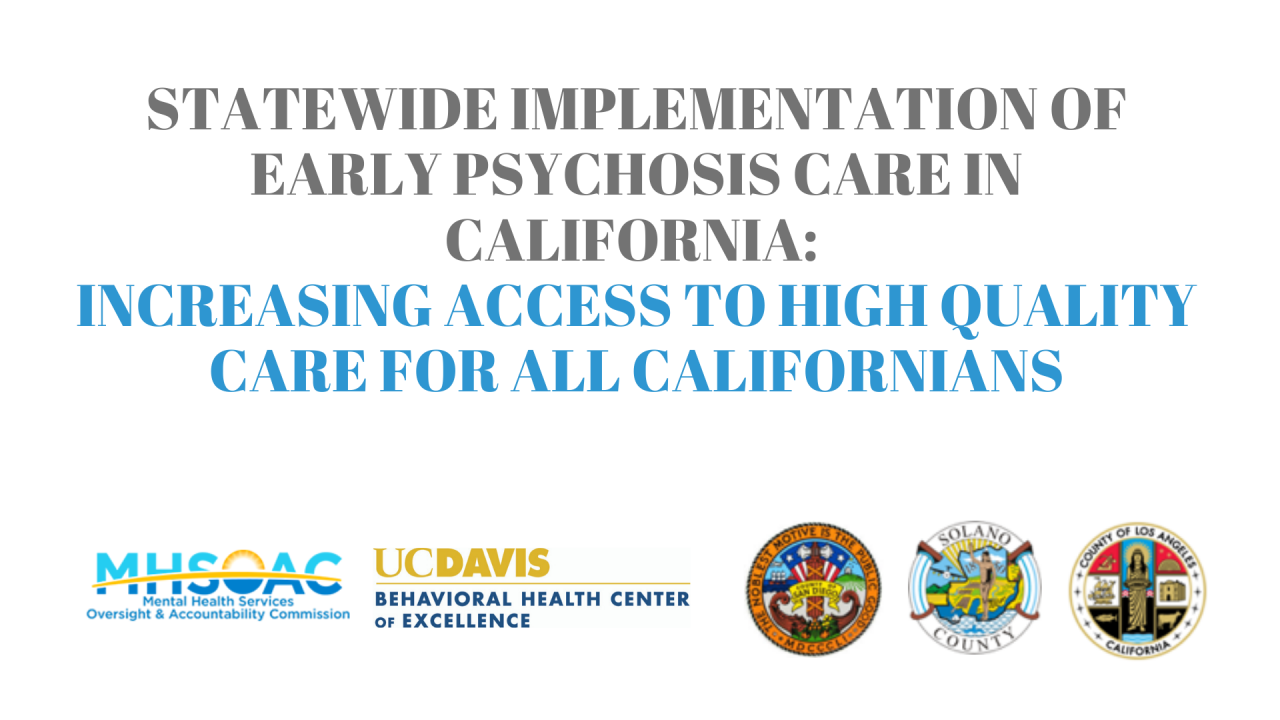 Location
UC Davis Medical Center Education Building, 4610 X St. Rm 1222, Sacramento, CA 95817
Statewide Implementation of Early Psychosis Care in California: Increasing Access to High Quality Care for all Californians.
---
This year, the governor allocated $20 million to the MHSOAC to support and expand early psychosis care in California, with the goal of making high quality early psychosis care available to all Californians. 
In support of this important goal, the UC Davis BHCOE, MHSOAC, Solano and Los Angeles counties invite you to join us for a one-day event in Sacramento. This meeting seeks to bring together stakeholders from state, county, and EP program providers and leadership, commercial insurance companies, as well as clients and families to learn from national experts about large-scale implementation of early psychosis care, state and national priorities in this area, as well as new projects to show the impact of early psychosis treatment. Lunch will be provided after the morning presentations. 
Afternoon breakout sessions will ask for your feedback on important topics, such as: 1) how to develop new early psychosis programs, particularly in rural and remote counties; 2) training and technical assistance needs for established early psychosis programs; 3) how to engage commercial insurance in early psychosis care; 4) and developing a comprehensive data strategy to show the impact of early psychosis care on the individuals and communities served.
We hope you will join us for this exciting event! Your voice is important in determining how these funds will be spent as we seek to transform the delivery of early psychosis care in California.
Sponsored By:
Los Angeles County
San Diego County
Solano County
The Behavioral Health Center of Excellence at UC Davis: Building research innovation that leverages the strengths of UC Davis in basic, translational and clinical neuroscience and enhancing its impact on patient care, public policy, and lives of all Californians affected by mental health challenges and their loved ones
The Mental Health Oversight and Accountability Commisson; The MHSOAC's mission is to provide vision and leadership, in collaboration with clients, their family members, and underserved communities, to ensure Californians understand mental health is essential to overall health. Hold public mental health systems accountable. Provide oversight for eliminating disparities; promote wellness, recovery and resiliency; and ensure positive outcomes for individuals living with serious mental illness and their families